25-meter ISSF shooting events demand extensive skills and practice. Access to training facilities remains a concern despite the growing popularity of the discipline. One of the main reasons for this is the high cost of electronic target systems. Tachus Technology Private Limited addresses this issue by offering affordable and quality Tachus 25/50 Electronic Target Systems.
Tachus 25/50 Electronic Target System has been designed and developed for 25-meter sports pistol, standard pistol, and 50-meter free pistol shooting events. It is the first ultrasonic electronic target system of its kind to be designed and built in India. The system has been designed with input and support from top national and international shooters following over three years of extensive research.
Technology:
Tachus 25/50 Electronic Target System makes use of a dependable ultrasonic measurement technique and a rubber band for score detection. This ensures that results are precise and consistent every time. When a bullet meets rubber, a sound wave is produced that is detected by ultrasonic sensors. The sensors then transform this acoustic data into an electrical signal, which is then processed to establish the shot's location. This information is used by the system to calculate the score and display it in real-time on the screen.
Software: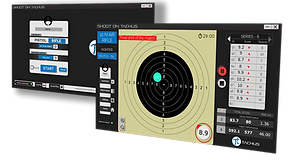 Tachus 25/50 Electronic Target System comes with Windows-based scoring software with a variety of useful functions, such as the display of decimal scores with direction, series, and match totals, a 4x zoom capability, PDF report generating, and hardware health monitoring. The software also displays shot placements within a fraction of a second after shooting, making it an indispensable tool for shooters who wish to monitor their development and improve their technique.
Additional Attributes:
Tachus 25/50 Electronic Target System has traffic lights (red and green) that can be controlled and configured by the software. This enables shooters to quickly and readily determine when they've hit the target. The system also includes a platform for mounting the target, making setup simple. The use of quality components from reputable vendors ensures a long lifespan with minimal maintenance.
Overall, Tachus 25/50 Electronic Target System is an excellent option for 25-meter shooters seeking to enhance their abilities and accuracy. Its powerful measurement technology, user-friendly software, traffic lights, and robust design make it a dependable and efficient tool for all levels of shooters.